The Q4 e-tron has just been revealed and it's
the newest EV from Audi. A few weeks ago, we saw the reveal of the
newest EV from Kia, the EV6. In this video, I'll compare the exterior,
interior, tech, performance and pricing of these two EVs, and show you why this is a
neck-to-neck race, with one car inching just slightly ahead, for a photo-finish! The Q4 e-tron and the Kia EV6 are both targeting
drivers in the compact EV crossover segment. The Q4 is styled very much to look like a
crossover. Audi likes to have its EVs look very similar
to their combustion cars, and so it is with the Q4. The Q4 comes in two body styles, a regular
roof and a fastback roof.
The bold, athletic look with angular wedge
like shapes is an attractive one. The single frame grille is distinctly Audi
and instead of featuring a blank body panel where the grille would be, it includes a nice
patterned panel. Despite it's boxy looks, Audi has invested
a lot of design and engineering into the aerodynamics to earn the Q4 a drag coefficient of 0.28
and the Sportback, a drag coefficient of 0.26.
Aerodynamic features include air curtains,
an adjustable cooling inlet, a paneled underbody and in the case of the sportback, a fastback
line along with a spoiler. The Kia EV6, takes a slightly different approach,
using more of a hatchback type styling instead of a crossover look and is guided by its new
philosophy – movement that inspires. In the front, Kia sharply rakes the hood downwards,
thereby eliminating the need for a grille. Along with flared headlights and digital light
signature, Kia gives the EV6 the 'digital tiger face'.
Towards the rear, there is a line that rises
from the base of the car and becomes an integrated light and spoiler. A floating roof caps off the stylish design. Kia hasn't revealed the EV6's drag coefficient,
but I suspect it will be in the same range as the Q4. I think both manufactures have done an excellent
job of creating very attractive cars. Because of it's SUV type profile, the Q4
is about 3" taller and is also about 3" shorter. Notably the Kia's wheelbase is about 6"
longer than the Q4. We don't have interior dimensions from Kia,
so we don't know if the EV6's longer wheelbase results in more legroom or not.
But what we do know is that the Audi does
have slightly more cargo room with seats down, although, it does lack a frunk. Both manufacturers are chasing a luxury feel
with their interiors. Just like the outside, the inside of the Q4
is very characteristic Audi. There's a digital instrument cluster with
available virtual cockpit and an infotainment touchscreen. Seats can be had in a couple of styles and
in a range of colors and high quality materials including leather, artificial leather, nappa
leather and sustainable Dinamica, which is made from recycled PET bottles. The steering wheel features a new squared
off shape and has capacitive, touch sensitive buttons. There's trim options and multi-colored ambient
lighting. The Kia goes for a high-style luxury look,
too. The infotainment and instrument cluster are
consolidated into this high-tech curved screen. There's a floating center console with an
LED light accent that jumps over the start button. There's haptic touch buttons and LCD softkeys. The seat materials lean toward the sustainable
with eco-processed leather and fabrics made from recycled PET bottles.
A nice option in the KIA are the zero-gravity
relaxation seats for you to rest while your car is charging. Both these interiors succeed in conveying
a nice luxury look. So they are comparable on the outside and
inside, are they comparable when it comes to performance? Both cars come in two battery sizes, with
the larger size being the same. When it comes to range, we'll look at WLTP
as we have those numbers. The Q4's range for the standard range battery
is less than the EV6's, but keep in mind that the battery is also smaller. On a kilometer-per-kwh basis, they are very
close. With the same larger batteries, the Audi goes
just a little farther. The Audi standard range comes in only rwd,
whereas the extended range comes in both rwd and awd. With the EV6, you can get both the standard
range and long range in rwd or awd.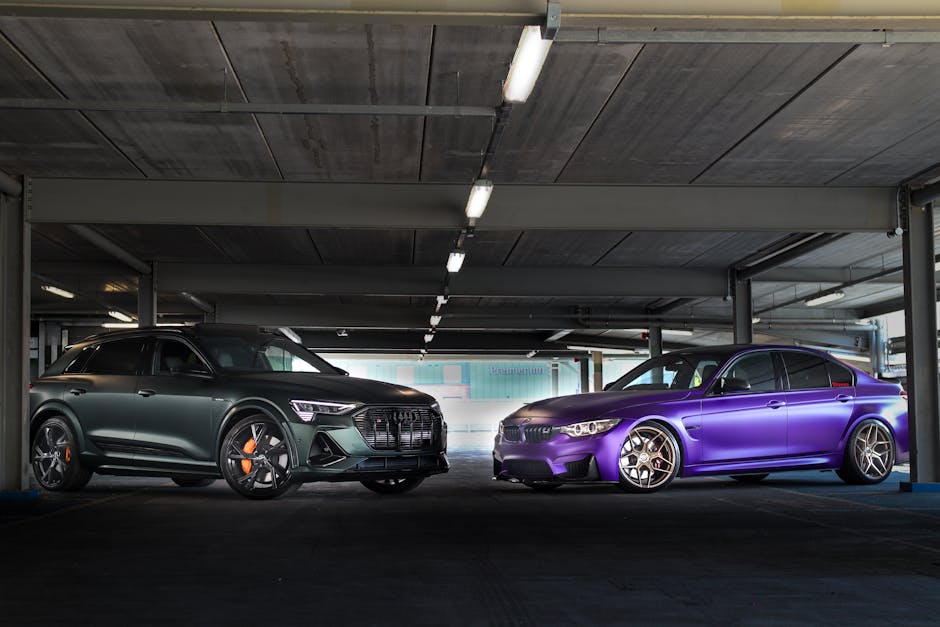 Horsepower on the motors varies, but consistently,
the torque of the EV6 is higher than that of the Q4. For 0-100 times, we have only one number where
they align and the EV6 is a second faster. Notably, the EV6 has a performance GT, so
we'll just have to see if Audi produces a performance RS Q4 to match. So just like the exterior and interior, these
two are neck-to-neck in performance specs also. But then, there's tech. Both these offer not only your standard safety
and tech features but also some pretty advanced ones. Available in both is head up augmented reality
display and heat pumps. And there's assisted driving in both with
Kia's system also being able to change lanes and decelerate in curves.
Both get intelligent LED headlights that can
partially turn off high beams so as not to dazzle oncoming cars. Audi takes advantage of the pixelated headlights
to make some neat creative light signatures. But then there are a few features that are
unique to Kia that give it just a slight lead and push it towards that photo finish. First, there's Vehicle to Load technology
that allows you to use the car as a power source to power your home or another vehicle. And then, most importantly, if you are intending
to do long distance driving, is the 800V charging architecture of the EV6. This is a technology that is typically found
in more expensive cars and allows faster peak charging power of up to 350kw, significantly
higher than the Audi's 125kw.
So with Kia having gained a slight edge with
technology, will it also cost more? This is a little tricky to answer because
Kia has multiple trim lines and Audi also has a number of trim options. But if we look at the base pricing that we
do have in Germany, at first glance, it might seem like Audi offers the better deal. We won't be able to verify that with an
apples-to-apples comparison until both configurators are live so we can't really reach a conclusion
at this time.
But nevertheless, it's interesting that
we are even comparing a Kia to an Audi and that they are in a similar price and spec
range. Over the years, Kia has been slowly transforming
its image from a brand that makes economy cars into a brand that makes high quality
mid-luxury cars offered at a price advantage. But with the EV6, it looks like Kia has lost
its traditional price advantage, and appears set to challenge the likes of Audi on an equal
footing. So, which one would you buy, the Audi Q4 e-tron,
or the Kia EV6? Let me know in the comments below.
And if you would like me to compare the Q4
e-tron or EV6 to another competitor, let me know the name of that car, too! Please give the video a Like, share your comments
below and Subscribe to The Driver Download!.