We're in Kuusamo
for the last snow of the season. We visited Juha Kankkunen
on his 60th birthday. The duo reminisced
about their glory days. Guys were hard as nails back then.
– Yeah. Besides eating sausages
Juha had a suggestion for our next test. How about an electric car? We had to abide.
Striking deep into the modern age – electric cars. The first fully electric Audi, the e-tron quattro all-wheel drive. Two electric motors and
361-HP on normal settings. A top speed of 200km/h.
0-100km/h in 5,7 seconds. 400km on one charge. Thanks to Juha Kankkunen
for lending us one of his cars. It was nice to see Juha again. – Yeah, he's a great guy. It's time for the present
and onto the future. So much reminicing I'm…
-Foaming at the mouth? Finally Mercedes-Benz and Audi
have produced electric cars. Jaguar was the first
to hit the midsize SUV market. The German manufacturers
quickly followed suit. They all plan to challenge
Tesla for the throne.
But that is not yet
the goal with this model. You have to remember that this is different kind of car than Tesla. It's still an SUV.
– It's an electric family car. When Audi joins the race
others quake in their boots. They're all doing it now. Tesla was the first
and now they're the target. 4 years ago we tested
an electric car with sports car performance. The Tesla Model S. I never experienced
acceleration like this! Seriously.
– It's quite something. Electric cars are in demand
as are midsize SUV's. The e-tron caters for both. Air suspension
really makes a difference. Gently rocking like a boat.
Like a limousine. The silence is deafening. I could fall asleep.
– Calm as you like. It's an easy ride.
The slight whine of the motor doesn't distract. The only concerns are battery life
and range. They last about 8 years. – Isn't that the estimate. A guarantee. One of the problems
is the range. This is 400km. The minimum
should be around 700-800km. That would be ideal for electric. 400km still makes life difficult. Thankfully the 150kW power grid
is growing in Finland as we speak. The e-tron is capable
of 150kW charging. You could charge the battery to 80%
on your lunch break. About 30 minutes. It's a funny old world.
– Yeah so far. It hasn't really sunk in. It's a pleasure though. – No noise.
None at all. Just the sweet sound
of your rambling.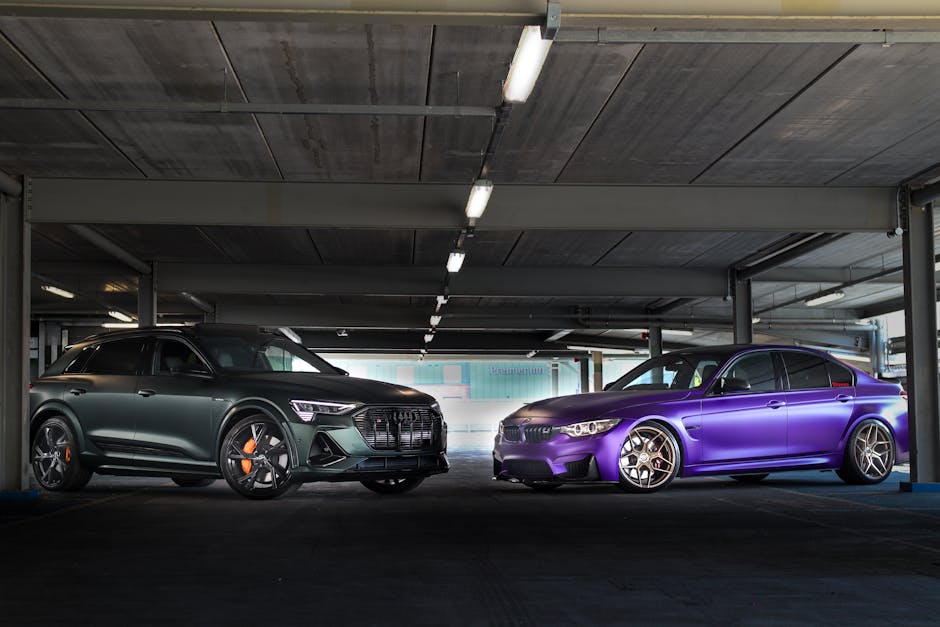 The almost silent 4-wheel drive
uses two electric motors. Situated on the front
and rear axels. The e-tron is mainly rear wheel drive – but directs power to the front wheels
when it detects slide. 4-wheel drive.
– You said it. Lets head to the lake. Test all these settings. – Yes there are. Just take it easy baby. Markku has been economical
so there's no need for a charge – before heading to the lake. Right Markku we're here! – Lets go! A crevasse… There's not too much water. We'll have to keep the speed up. Remember it's an e-tron.
– So we can't go crazy. It's no Lancia 037… That was safari style.
– Kivimäki would be terrified. He'd want a Marlboro about now. As we pick up speed
the cars mass plays its part.
Weighing in at 2500kg
including two 700kg batteries. The air suspension
helps with cornering. Does it feel heavy?
– It's surprisingly good. Just need to get – the rear to follow the front.
It's great. It's good on this bit.
– Yeah it is. You have to go full throttle. The "Sport" setting
increases torque and power. On this setting, for 8 seconds
it produces 408-HP – and 664Nm of torque.
Now I feel the quattro. It's quite conservative. – Yeah there's a delay. My foots down…
and now we go. Maybe it's just your Italian shoe rubbing…
– Yeah right. After 12 laps we're getting the hang of it. Pretty good. Even without sports car performance
we're left with a positive vibe. Definitely positive. We wondered about the weight.
but it was fine. And with normal tyres.
Not bad at all. There was torque too.
– Yeah. So Markku, I'd say it's quiet,
comfortable and surprisingly powerfull. – Yeah it's a good package. Audi have taken some big steps. Any surprises? The silence. And the driveability. With the air suspension
it's a nice ride. And the power? With these HP – very good. Shall we charge it
and head back to Helsinki? Lets do it. Towards the electric future! Lets go!.