What's going on YouTube So the days of Tesla being the only name in the game are rapidly changing and today we're with one of the first serious challengers the all-new e-tron This is Audi's first dedicated electric vehicle and we've managed to get our hands on a fully loaded pre-production model to show you guys Of course We do want to take a moment to thank our friends at Audi of Lexington For giving us a heads up that this would be visiting today and If you're the market for any new Audi be sure to stop by their dealership or visit them via their website Which we provided a link to in the video description So if that all said, let's see if Tesla should be scared So starting off with the exterior styling You can tell right off the bat that Audi's decided to keep the design more traditional than the powertrain would suggest So even though a large grille is unnecessary on an electric vehicle howdy did keep it roughly the same size as the other vehicles in their lineup for a cohesive look However, most of it is filled in except for a few slots in the middle and here in the US It is finished as silver instead of the black you get in some other countries Turning over to the headlights It comes with the latest and greatest Matrix for LED lights and the e-tron does have these special accents that run down the side from the main part Moving down there is an aerodynamic slot and then a silver accent Now as far as the ground clearance, this has a standard air suspension And right now we're in the highest setting of 8.2 inches The default ride is six point eight inches But it does automatically drop down another inch at 75 miles per hour for maximal efficiency Heading to the side it looks a lot like the Audi q5 Especially when it's raised to its highest height setting but as far as the length It is actually sized much closer to the q8 than the q5 at 193 inches long and Then moving around to the rear it again has a pretty traditional look complete with all the latest outing design elements the taillights are fully LED and they are attached which allow it to have the same cool animation as in the q8 and Then down at the bottom.
Obviously, there are no exhaust pipes or anything like that But overall, I think already made the right move by making the e-tron look mostly like a normal vehicle It still looks high-tech, but it looks normal enough to bring in new electric buyers Now as far as the wheels they vary a lot since we have the prestige we have the option to get these very nice-looking 21 inch turbine wheels Otherwise both the trims comes standard with 20-inch alloys or you can get special super aerodynamic 19 Moving to the mirrors they are heated power adjusting auto dimming and have standard blind spot monitoring and Then it regards to the rest of your safety systems. The e-tron does come standard with automatic emergency braking and pedestrian detection But you will have to choose the prestige trim to get the drivers assistance features like Lane Keeping Assist Turn assist Auto high beams and adaptive cruise control with traffic jam assist The e-tron can also tow a pretty good amount of weight at 4,000 pounds But that is about a thousand pounds short of what the Model X can hear And finally the last thing to check out is the charge port next to the driver side door We'll talk about this stuff more in the powertrain section, but for now know that it is rated at 204 miles of range But anyways that covers everything to look at on the outside, so now let's go ahead and check out the futuristic cabin So as you would expect the all-new each one does come Standard without a smart entry system as well as their latest key fob with some special each line branding across the back of it And then of course to get inside all you have to do is just grab the handle since there's a sensor And the door will right up All right So checking out the cabin of the brand new e-tron As you can see it kind of combines elements from outies typical design language, but with a really high-tech twist So what we're looking at for the interior color and material options The Premium Plus model, which is the base trim comes standard with leather seats However, when you go up to this prestige, you're going to have the upgraded valcona leather No other seats and then as far as your color options, they don't change between the two trim levels So all the models have the choice between this black Okapi brown or pearl beige And then your only wood is a natural dark brown walnut Now turning over here to your door trim, it is very very nicely finished as you would expect You have full leather across the armrest portion as well as a nice Alcantara trim and real lumen Um through the middle and the top part is also padded As far as your windows, of course all four are OneTouch Auto up and down And then your memories these are actually located down here As far as your seats I couldn't find the exact number but I do believe they are 12-way power adjusting across all the trims However on this prestige, you're gonna have the additional massaging abilities And like I was saying this is the special upgrade of valcona leather and it feels absolutely a wonderful Definitely very supple and you've got a really cool looking a stitching design as well Also worth mentioning on the prestige that you have these soft closing doors So when you can see how to close them, you'll go ahead and suck it in for you So like I already mentioned it does have a pretty cool high-tech design in here But you're not giving up anything in terms of the typical very very nice outtie material quality So especially here on the prestige trim where you have the extended leather You have leather across all the upper – and then dropping down to the middle You have some beautiful open poor walnut trim as well as some piano black and with each one badging Coming down to your lower areas Of course everything that looks like metal is real luminal and you even find more leather down here with color contrast stitching Now, of course as you would expect push-button start is standard across the board And when you press it, you'll see the brand-new MMI Touch system fire up It does consist of a 10.1 inch display up here as well as an 8 point 8 inch secondary screen down here Is standard across every each one Of course since this is a full electric vehicle startup is totally silent Now coming over here to your gauges.
This is known a virtual cockpit plus The plus being because you now have the extra gauges extra electric things to go along with the e-tron so in place of your tachometer as you can see you basically have Percent of electric power that you're using as well as the when you're you know brake regeneration is charging the battery but otherwise This is basically just the same virtual cockpit as you get in all other Audi's so you can still blow up the map Which is the beautiful Google Earth maps really large you can go back here.
Yeah, you've got your things that you're need like range consumption stuff like that And then you do also have your traditional other stuff like driver's assistance Additionally here on the prestige trim you'll also have a head-up display Now coming back to the steering wheel obviously it is electric power assisted steering And you do have the latest out e steering wheel design with your for real aluminum spokes here as well as leather wrapping and color contrast stitching These buttons go with your virtual cockpit and then this side you get your phone audio and voice commands You have paddle shifters here on the e-tron and also rain sensing wipers As far as the wheel itself it is power adjusting However, I might be wrong, but I cannot find a steering wheel heating button in here So I'm not sure if it has it or not Now as far as interior storage the e-tron actually has a lot more than the q5 or the q7 So over here at your center console you have both the traditional Space great hair is nice and felt lined But more importantly you have this really large open space it even has a pass-through so you can set anything you want to in here Slide this back for you two cupholders And then you've got a large bin right here, which does also work as a compass phone charger So you just slide your phone in that little tray there and it clips into place You also have a 12-volt outlet and then right there you've got your two USB ports Additionally, I do want to point out Over here where a lot of automakers have like a simple coin tray Howdy has actually included a huge amount of space This goes way back.
I can't even reach back there all the way so you can definitely stores a lot of stuff in there I think it's actually designed to fit the entire instruction manual Now one of the most futuristic aspects of this vehicle, is this really neat shifter Now this part doesn't actually move. This is designed to be a Armrest for you to use this bottom display here this part actually slides So for drive, you're just gonna take this and push back and you can push back once more to activate the sport mode and It is worth noting that when you're in that sport mode, that is what activates that special boost mode which gives you more on-demand horsepower Then if revert were for reverse, you're just going to go the opposite direction so you just push all the way up And when you do you will find the standard 360-degree camera system fire up. So this is the same really really fancy camera system.
We've seen in the a6 and the a8 So basically, you've got your traditional view over here on the left side. And as you turn the camera actually turns with the trajectory Then you can you've got your 360 view over here, but the coolest thing is going into the 3d mode which allows you to Just pan around the entire vehicle you can control Whatever angle that you want and this is just a really really slick system And then for part you just press the little P on the end and you have an electronic parking brake as well Now one of the things I want to mention Is the mirrors here in the states We just have the traditional mirrors but you may have seen that the European models have a the ability to have a Exterior camera and then a screen in here that acts as the mirror So that's a really cool feature and hopefully we'll be able to get that someday here in the states when regulations change Now up in front of the shifter, you've got a couple metal buttons These are for your parking sensors, and then this button here activates your levels of safety systems Just basically let you customize which safety systems you want tack certain ways Now that brings us over here to our audio system All models of the e-tron come with the upgraded Bang & Olufsen 3d sound system.
So let's go ahead and take a listen As you can probably tell sound quality is excellent as always from the Bang & Olufsen sound system Now moving on up we've got another row of buttons here This is for your drive select. So on the e-tron you have looks like several different drive modes You've got off road all road efficiency comfort automatic dynamic and then an individual one where you can customize that Additionally, you'll notice you also have an air suspension on this model. We're right now in the highest setting However, you can lower it down for a maximum aerodynamic efficiency Now coming down here to your lower display this is mostly used for the climate controls So these you can see this is the standard four zone automatic climate And basically all you have to do is just touch on this display You can swipe up to adjust the fan speeds change the zones right here and you can do the same with the temperature It's just swipe to make the adjustment Standard on both models you do have heated three stage and three stage ventilated seats.
So that's very nice to have and Then additionally you can press that button and that brings you to your additional features So on the prestige trim, you're going to notice this ion filter as well as a fragrance system It changed exactly which scent you want. You can just go to the settings click fragrance. You have winter and summer Formulas whatever that's supposed to mean but then you can also choose how much of it you want so you can Make it just a little bit or you can make it super strong anyone As far as your other features down here on this lower display across the top you've got a row of different buttons here This is for your hill descent control These are your home link universal remotes, or excuse me. These are your home link universal remotes This right here will turn off the head-up display or make adjustments to it And then this right here will actually turn off the displays itself But anyways, now that brings us up here to the actual MMI Touch system itself So let's go ahead and take a look and see what is changed with the e-tron Specifically you already said this is the new version of MMI called MMI touch response It is now I touch display as the name would suggest And It does have a special feature, which is basically a haptic feedback so you can actually touch on two things You'll see an animation, but that won't register as a click until you actually press down and get that physical Change there This basically just allows you to feel like you have traditional buttons still even though it is a touch display Now going to our home screen here.
This is all of your apps populated out So you can go into things like your phone you'll see a list of your contacts located right here Next we'll head on into the navigation system. Of course. This is the Google Earth maps So you can pinch the zoom and you can see a really detailed satellite map right here And it does match with the one in the virtual cockpit And we can go into phone applications and this is where you will find apple carplay and android auto standard equipment However, the apple carplay is actually wireless so I can connect via bluetooth and run through bluetooth Heading into vehicle. This is where you can customize basically every aspect of the car Well, I'm in here on this e-tron You've got some specific things like your charging and efficiency tab so we can go into here and check our status of charging And one thing interesting is that it will show up is a hundred percent battery charge when you have it charged up However outtie has designed a vehicle to charge to 80 cent percent that's just to help the Longevity of the battery to continue to last a long time since it's a little bit harmful to charge something up to a hundred percent of Course, this is an extremely advanced system.
But that's all I'm going to go through in this particular video However, we will have a dedicated tech help video available For those of you who want to learn more a link to that will be provided in the video description I'm moving on up. You do have an auto dimming mirror. It is frameless and you've also got a compass built into it And as standard equipment on every each one you have a power panoramic moon So as you can see, this is very large It goes all the way back to the rear seats. And this front portion does open up the second traditional moonroof Let's send lots of light in here and you have a twin But overall, I am extremely impressed by the cabin of the all-new e-tron What I like about it most is that you can be a it's a high-tech vehicle, but you're not Compromising on the luxury in any way shape or form.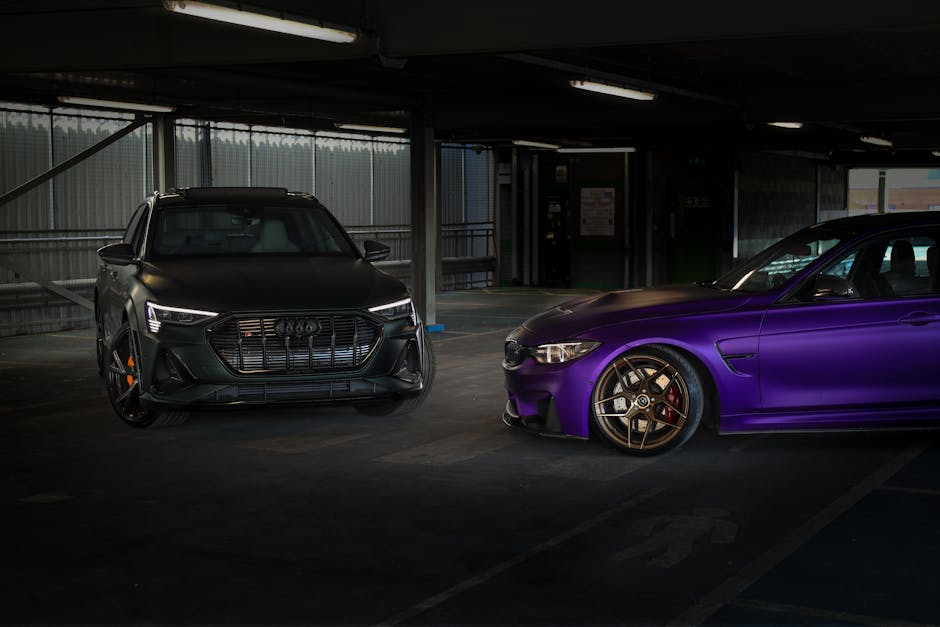 It's a very traditional interior with high-tech touches so it's easy to get used to whereas something like a Tesla with just the one big giant screen with everything in it is very difficult to get used to this gives you a High tech splash into your traditional really wonderful outtie cabin When you get out your seat and steering wheel do move out of the way to help with an easier entry and exit But anyways now go ahead and hand it off to Mason who will check out all the rest of the cabin All righty, so checking out the rear seat of the all-new 2019 Audi e-tron, you're going to find a really large amount of space It's technically rated at 39 inches of both leg and Headroom, which is actually larger than the q7 for reference Now turning over here to the door trim.
It is really really nicely finished So we do have a leather padded armrest here on the prestige model nice stitching details going through it As well as Alcantara all the way above it and it even goes all the way over here The door handle is a really nice design. And you do also have rear window sun shades on this prestige model Now coming over to the seat itself it is a beautiful Valcona leather beautiful stitching details, it's also very soft Now here in the center area out he does fix you up really nicely across all the models So you do have rear vents which are standard equipment and down below that you will also find climate controls So as you can tell we can just swipe up for the temperature and you can adjust it independently for all four zones Now you do also have fan speed adjustments. And all you have to do is swipe up for warmer down for cool Now in addition to that we do also have three-stage heated rear seats which are included in the cold weather package Now down below that we do have a 12-volt outlet as well as two smart charging USB ports.
I Thought being over here to the center armrest It is really nicely leather wrapped and inside you have a little felt lined area as well as some cup holders Up top there's LED lighting and of course you do have this beautiful panoramic moonroof Which really helps air out the cabin and over to the side you have an assist grip and co hook Now you do also have an additional vent here on the b-pillar and as far as where legroom is concerned behind drew seating position I have about I don't know eight to nine inches of her leg room and my feet definitely don't have any trouble sliding up under the seat And coming over here to the passenger side even with the seat scoot all the way back I still have a couple inches of rear legroom, which is very impressive for this class But overall I'm extremely impressed by this all-new e-tron's rear seat.
This is an extremely nice place to spend time It has every feature you could ever want and there's also tons of space Now of course, um, our seats do fold on this model So I have to do is look at this little lever and they will fold right down 40/20/40 split Now coming around to the tailgate it is hands free power on all models So just wave your foot under the bumper and it will open right now Now checking out the trunk of the e-tron you're gonna find a really large amount of space back here as well You'll find 29 cubic feet behind the second row seats and that expands all the way up to 57 cubic feet if you fold them Now this does make it one of the largest midsize crossovers Audi actually claims. This is the largest midsize crossover So this is a very big space you won't really have very many troubles back here now It is also finished very nicely as you would expect have a really nice carpeted floor board and down below here You do have a spare tire as well as a lot more space.
This actually goes very very deep I don't know if you can tell but it's probably three or four feet deep back here for additional storage space Now if you want to fold the seats from back here you can do that as well So I have to do is grab this little lever and it will fold up Now coming over here to the passenger sees that beautiful design as well and it is also the same adjustment as the drivers so you Have a lot of different ways. You can adjust it and it is massaging here on this prestige model Now in addition to that we do also have two-person memory here in the passenger side as well Now in front of the passenger as you would expect there are really nice materials so you have this padded area down here as well as beautiful wood trim some each on branding and Here in the prestige we have a leather wrap dashboard Now down below that you will find a really large glovebox It goes back quite a ways and it is also nicely felt lined in LED illuminated Up top we have a Sun Visor of the mirror and LED light and it does also detach and extend But anyway guys that sends up all the rear areas of this Audi e-Tron So now let's go ahead and get to the big component which is the powertrain All right, so let's go ahead and talk about this cars advanced powertrain Obviously it is full electric as you should probably know by this point So this is One of our DS first mainstream electric vehicles, especially since their new push towards electric vehicles that's coming so this model comes with a 95 kilowatt battery and that's good for 355 horsepower Now as I was saying earlier though when you put it into the sport mode That highlights right up.
There it goes into what is called a boost mode And that boosts your power up to 402 horsepower Now how this is arranged basically you have an electric motor on each axle So you've got the instantaneous torque, it can be distributed as needed with the Quattro system And it's good for 5.5 seconds 0 to 60, which that's a very quick a 0 to 60 time. Mm-hmm now as far as charging howdy says it uses an industry-first DC fast charging at up to 150 kilowatts And that's going to be enough to give you 80% charge and only a half an hour. So that's really impressive They also were emphasizing the range it is two hundred and four miles and they were talking about how the Vast majority of trips in America are under five miles so you can get quite a few trips out of a Single charge on this this is just for reference. It's a little less than what you get from the Model X Tesla but the Model X now it only comes in long range form And just as a note here today while we were filming out.
We've been flying it for a couple hours And this car is used like five miles of range in that entire amount of time Which I think is very impressive and we've been using the air conditioning and all that stuff So it's just a little bit of a testament from what we've seen today And this doesn't exactly Matter too much to the average person, but the EPA does rate electric vehicles with the MPGe standard So if you want to know that is a 74 City 73 highway 74 combined MPGe Obviously that probably matters less than they range generally but it is a different metric that you can compare to what anyways that pretty much sums up the powertrain so Now we won't actually be taking this one on a test drive. This is a pre-production Model it was brought in by the corporate for Earth Day. It's just a demonstrative unit So we're not allowed to drive it However, what we will do is we'll pull around this parking lot a little bit We won't be taking off the property Give you the ever so slight taste of what it is like let you hear it a little bit So we'll go ahead and do that Now the region on this car is basically strong enough to hold it in place unless you're pointing it downhill so You will have to get it used to when you take four off the brake You do need a roll on to the gas to get moving again Makes a very interesting sound it sounds like kind of like a spaceship It really does sound like a spaceship and it also sounds like that on the outside as well Yes, so that kind of I guess that's probably for safety to let pedestrians be able to hear it But yeah, you do get that sound both the inside and out.
It's really fascinating if those futuristic impress your passengers, I'm sure They'll also be impressed by the acceleration It definitely it feels quick, you know in electric cars you have instantaneous torque So you're gonna get up to speed and go to speed quite fast and this is roughly in line like he was saying with the q5 or a q7 with their standard engines you'll have roughly the same 0-60 and a similar feeling experience Oh of course while consuming no fuel It's really just the oddest sensation to drive one of these we've never actually driven an electric car before and this is definitely really really unique Obviously it is supremely quiet.
Yeah, I mean Wow And you know just hitting a few little bumps and stuff it doesn't seem tuned any different than like a regular Audi SUV So as you would expect it is very smooth Really, It's just the powertrain that's different in this car Yeah, so unfortunately that's going to be it for this drive we will Definitely be looking to do a test a full test drive when the production unit arrives here But for now, there's your little taste of what the e-tron is gonna be like inside and out. And also there's a little bit of How it's going to drive how it's going to sound and we'll have full coverage at a later date All righty and let's go ahead and discuss the pricing of this all new eat Ron here for a minute so There are only two trim levels on the e-tron you start at the Premium Plus trim level and then you can option on the prestige trim So the base Premium Plus is seventy four thousand eight hundred starting And then you have this model which is the prestige and that starts at eighty one thousand eight hundred dollars Now like we mentioned before this is a pre-production model So we don't have like a sticker or anything like that above what you're gonna use the building price to estimate real fast So we do have the prestige trim as well as the galaxy blue exterior color for five ninety five 21-inch turbine wheels for fifteen hundred the towing package for 650 outie guard protection kit for three thirty as was the cold weather package and Then finally when you add in the nine ninety five destination charge The total for this one comes in at eighty six thousand seven hundred and seventy dollars Which is about as expensive as you can get it right now And it's right in line with that of the Tesla Model X Which is about eighty thousand and definitely this could be something that you could compare with like a q8 or a q7 As an electric alternative for that Well guys, we've you enjoyed watching the first in-depth look at the all-new 2019 Audi e-tron Please hit those like and subscribe buttons if you haven't already and we'll catch you next time as we sample more of the latest automotive delicacies!